Luvvvly Jubbbly. It's business As Usual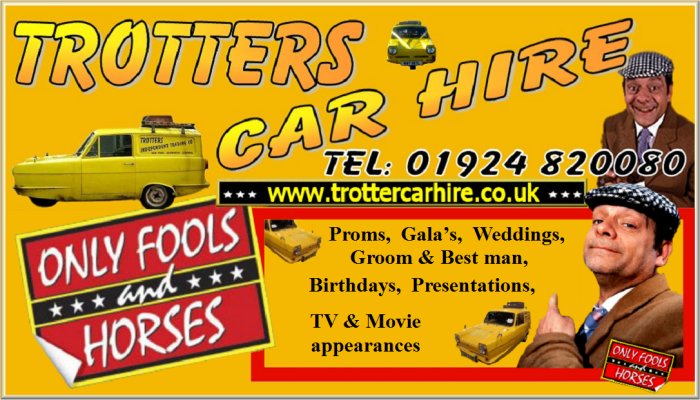 Our Novelty Limo Hire will cater for those fun trips & novelty car hire requirements and all with free complimentary drinks .
Novelty Limo Hire. Novelty Limousine Hire, A-Team Van, Trotters Van, Hummer Stretch Limo. White Wedding Car Limousine. Chrysler Wedding Limo in and around Wakefield, West Yorkshire is part of Eggleston Limousines .
Trotters car hire - Only fools & horses Trotters van hire available for parties, fairs, school gala's and many other functions.
Only Fools and Horses car hire..
Trotters Three Wheeler Van For Hire.
Welcome to the online home of Trotters car hire which is part of the Eggleston Limousines
fleet of vehicles such as Hummer stretch limo and White city car stretch limo and the popular A-Team Van
Wakefield, West yorkshire. UK
Call Wakefield Tel: 01924 820080 for further information or to make a booking.
Thankyou for visiting this - our website.
You may like to visit our main website for more information about our other limos for hire, by clicking a link below here.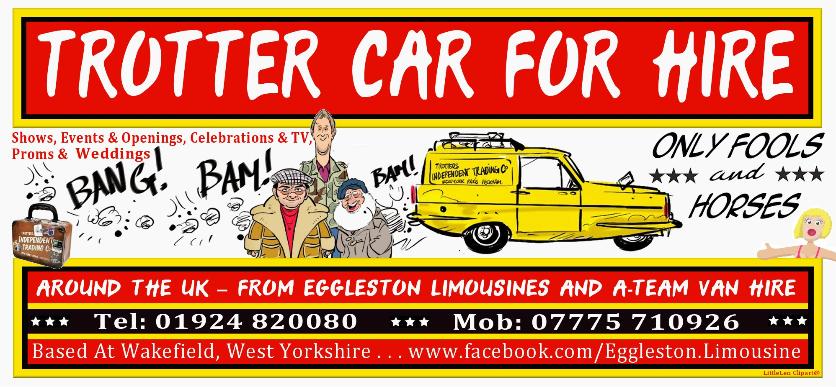 Please contact us below for all enquiries via our telephone or via email direct
Telephone : Wakefield
01924 820080
Email Enquiries: Please Use The Contact Form
Please email for your quote, giving date, time and number of persons
and we will endevour to reply within 24 hours or altenitively, you
may send us your message by using our automated Contact form or Quote form.
Ask your questions here
Get a price quote for your journey here
The above buttons will re-direct you to our Novelty Limo hire Website where you will be able to send us the forms and find out more about the different novelty vehicles available from our fleet of Limousines

Our Staff
Our friendly and helpful staff will make sure you have a comfortable and enjoyable journey. This is our job, and it's our mission to help you feel at ease too!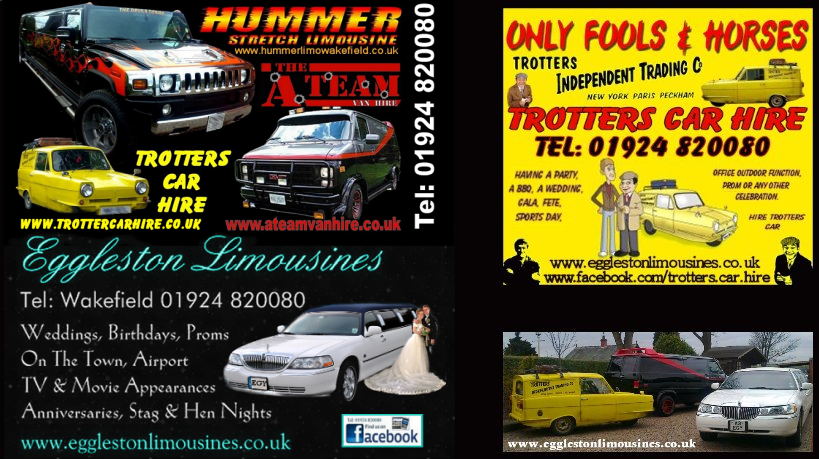 Update: Due to the Covid 19 present situation, Eggleston Limousines are more than happy to re-arrange bookings to a later available date (within 12 months of original booking) for those having paid the (non refundalbe deposit.) Thankyou and please keep safe. Download Full Terms & Conditions (CLICK HERE)